Goldpac has been recognized with multiple Elan awards for innovative card design and technology
What's the ICMA Elan awards?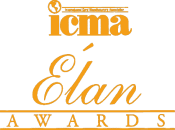 "Elan AWARDS" is selected by ICMA every year to represent the highest technology, design and safety of the global card making industry, which known as the "Oscar in Card Industry ".
Since 2004, Goldpac has been awarded the Elan Awards several times in various awards such as Process technology, Unique innovation, Secure payment, Personalized service, etc. By 2021, the total number of ICMA Elan Awards won by Goldpac has reached 37.