A plethora of technologies are on display demonstrating the broader applications of fintech.
Hong Kong – China, April 12, 2023 – At InnoEx, Asia's premiere I&T (Information & Technology) event, Goldpac is exhibiting a suite of technologies and solutions that map out development trends in the growth of fintech from its booth at 3D-E08. A wide selection of exhibits and demonstrations are available from stunning payment card printing finishes and instant card issuance services to AI (Artificial Intelligence) content verification and even technologies that enable new discoveries of consumer insights through secure sharing of encrypted 3rd party data.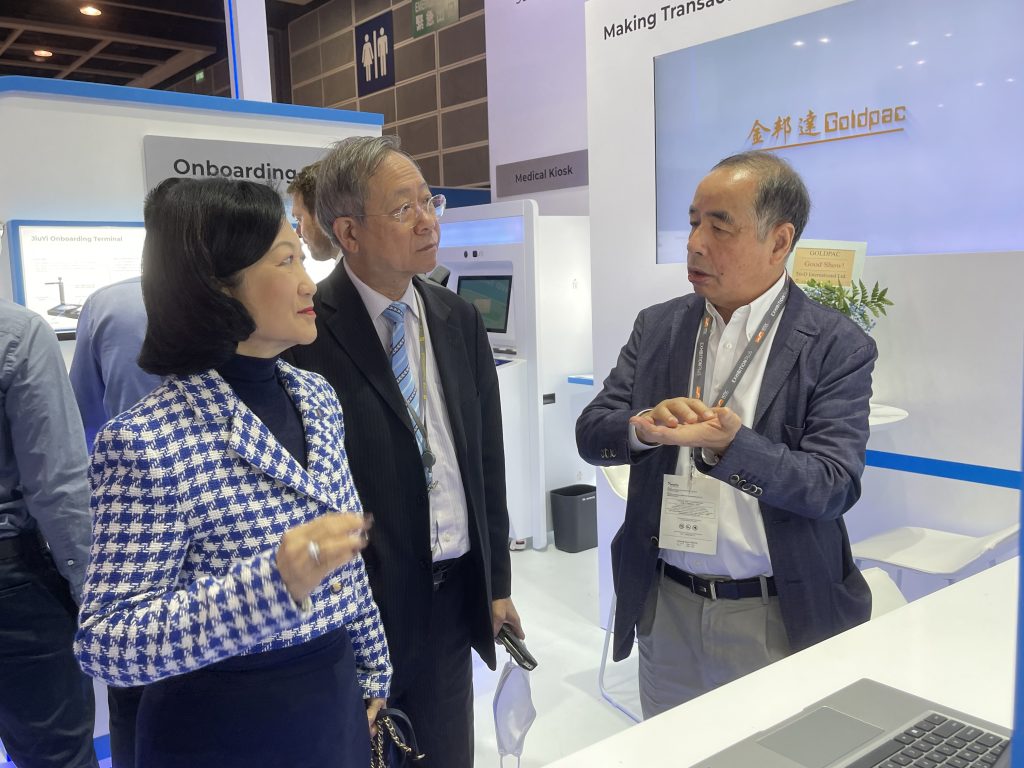 Mrs. Regina Ip LAU Suk-yee, Executive Council convenor of HKSAR (first from the left), with Mr. LAI Tung Kwok,  Legislative Council Member of HKSAR (second from the left), and Mr. LU Run Ting, Chairman of Goldpac's Board of Directors (first from the right)
Advances in kiosk technologies allow self-service card issuance kiosks like the ACE301 being demonstrated, to combine card issuance with dispensing functions and more. Issuance and dispensing require different mechanical processes and were previously only available separately. Now a single unit can handle a multitude of services like issuing credit cards and dispensing medical cards. Kiosks increase efficiency, reduce queuing times in-branch, and elevate customer services quality and satisfaction.
Alongside the ACE301 kiosk, Goldpac is displaying its entry level DCE160 and advanced, all-in-one, PIE001 desktop printers. The DCE160 offers everything needed for an efficient and trouble-free remote card issuance program. The PIE001 on the other hand, adds new levels of sophistication by foregoing the need for an external PC (this is built-in to the unit), adds convenience with built-in eKYC (Know Your Customer) features, and comes with a large 10" touchscreen. Designed as a portable, single-unit card issuance station, the PIE001 redefines convenient remote card issuance services.
For front-end applications such as account opening and consumer onboarding, the SST502 is an ideal choice. Featuring a small footprint, the unit is perfect as a data capture and application station. A camera (for facial recognition or video/image capture), fingerprint scanner, card reader and electronic signature pad come as standard eKYC features. A high resolution A4 document scanner makes document capture a breeze. The card reader can also be used for card-based services such as digital wallet enquiry applications.
Extending Kiosk Technologies To New Sectors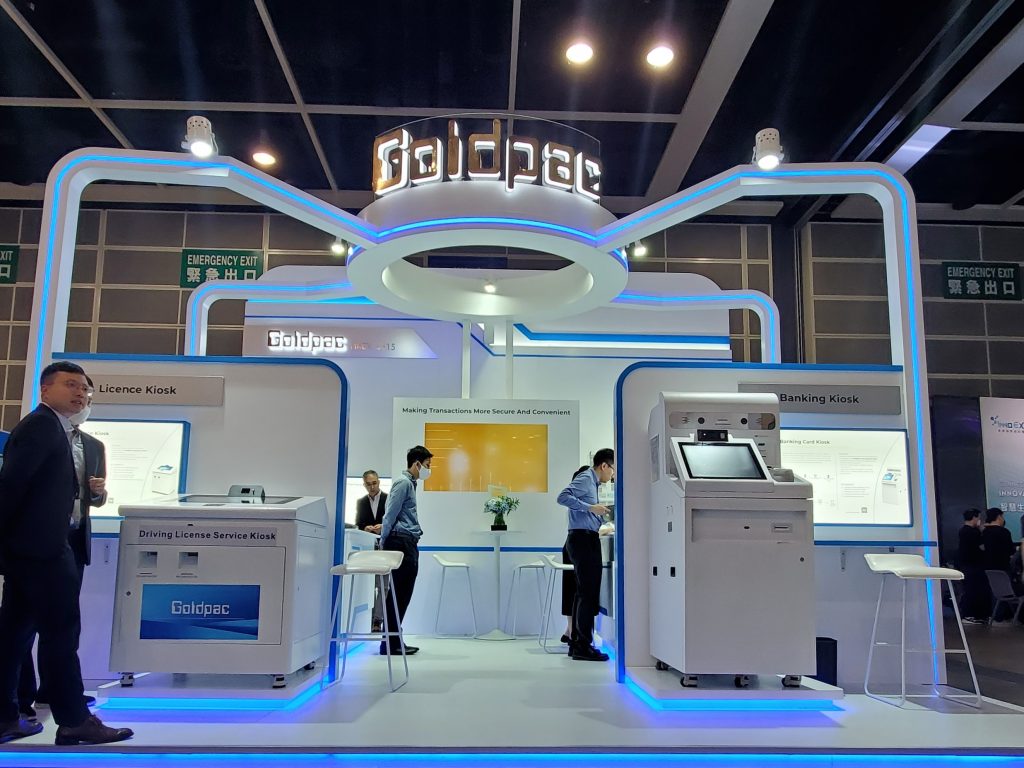 Progress in fintech development has also brought about benefits in other sectors. Two self-service kiosks on display leverage the maturity of eKYC technologies to benefit government and healthcare sectors. The SCE303 Driver's License management kiosk can contribute significantly to reducing or eliminating long queues. The SCE303 issues a new driver's license on presentation of a citizen ID document, supports common paper-based licenses (prints and laminates) but can also support standard smartcards. The SCE303-F Prescription Pharmaceutical dispenser kiosk combines identity verification and proprietary medicine dispensing technology to standardise, personalise, and digitise the medicine dispensing workflow. This allows citizens to address their prescription medicinal needs at their own convenience.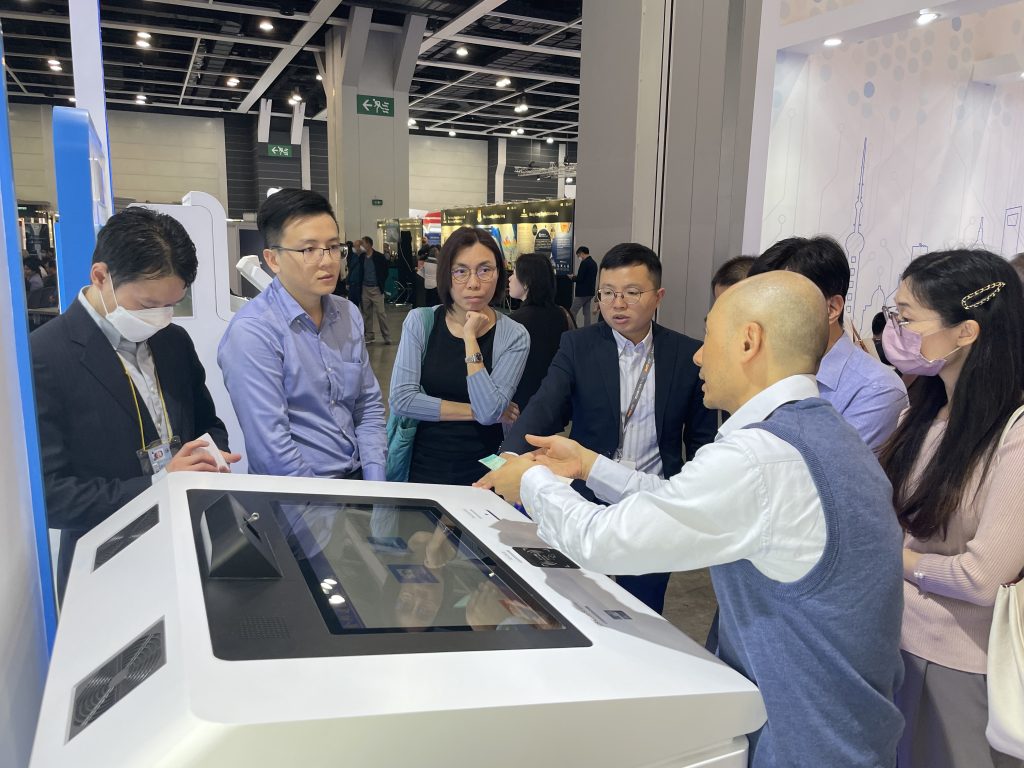 Mr. CHOW Wai and Ms. CHAN Ka-bik, guests from Hong Kong Transport Department, visited Goldpac's booth
Tapping Into Artificial Intelligence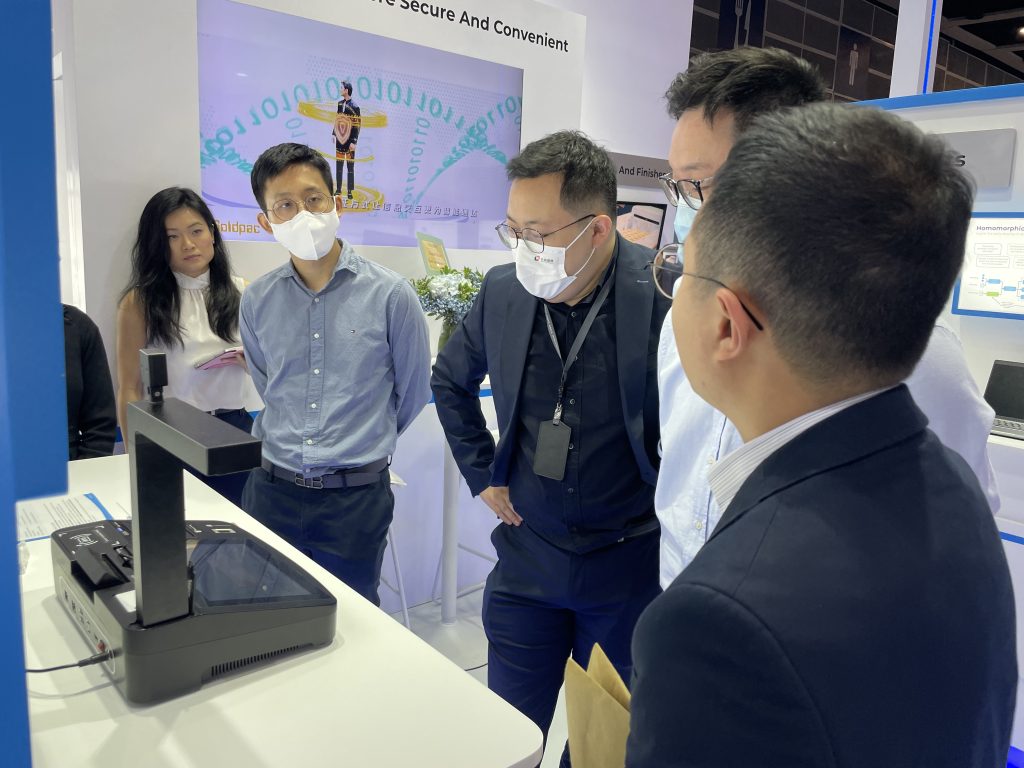 Fintech is making headway along many different directions. However, Goldpac is focused on exploring how combining AI and fintech can make an impact around increasing the convenience and security of financial services provisioning.
Growing demand for customised consumer products will fuel tremendous growth in personalised content generation. Goldpac's GoldAudit platform provides a very high-throughput, AI-driven content verification system to ensure for example, pictures uploaded by cardholders as their payment card face design comply with rules-based (copyright, obscene, forbidden, inappropriate etc.) filtering and approval.
Automation drives advancement and the AI Voice Assistant is an example of the possibilities ahead. A straightforward concept, the system calls the mobile number of each customer in a database. Voice synthesis is used to read a customer services script and natural language processing interprets the customer's response. Such a system allows for example, an issuing bank to eliminate lost or "return to sender" mail costs by first confirming the mailing address using this system, thereby guaranteeing successful delivery.
In collaboration with Marvel Digital AI, Goldpac is also showcasing the use of AI for ID photo processing for eKYC applications. The system takes a photo of the user and applies computational algorithms to separate the user's portrait from its background, optimises and then formats the photo in accordance with relevant photo ID requirements. Goldpac developed its AI algorithms and integrated the algorithms into Marvel Digital AI's edge computing AI chip. This collaboration enables an efficient solution for ID photo processing and other edge computing-related applications.
To stir up some additional excitement and fun, an image generation demo takes user inputted keywords and choice of image style to feed an AI engine that creates fascinating and interesting pictures which can then be printed onto a smart card to take away.
Future Foundations
Combining convenience with enhanced security, Goldpac is exhibiting its prototype Sonic PIN Detection software. Sound waves (at frequencies outside of the audible spectrum) are generated by a smart phone speaker which are then picked up by the phone's microphone.  Highly complex and advanced algorithms distinguish and detect how much force is exerted on the screen with each PIN press (and works with non-pressure sensitive touchscreens), creating a unique sonic PIN signature. This eliminates over-the-shoulder snooping and increases the effort and time required for brute force attacks even when the PIN is known.
Big data has been influential in creating the digital world of today, yet a limit has been reached where vast amounts of data are now trapped in silos. Goldpac is attempting to change this with its homomorphic encryption demonstration. It allows disparate commercial entities to mutually share, query and interrogate encrypted data to discover new consumer insights. This advanced computational framework ensures that raw data is ever exposed yet offers massive potential for future business models.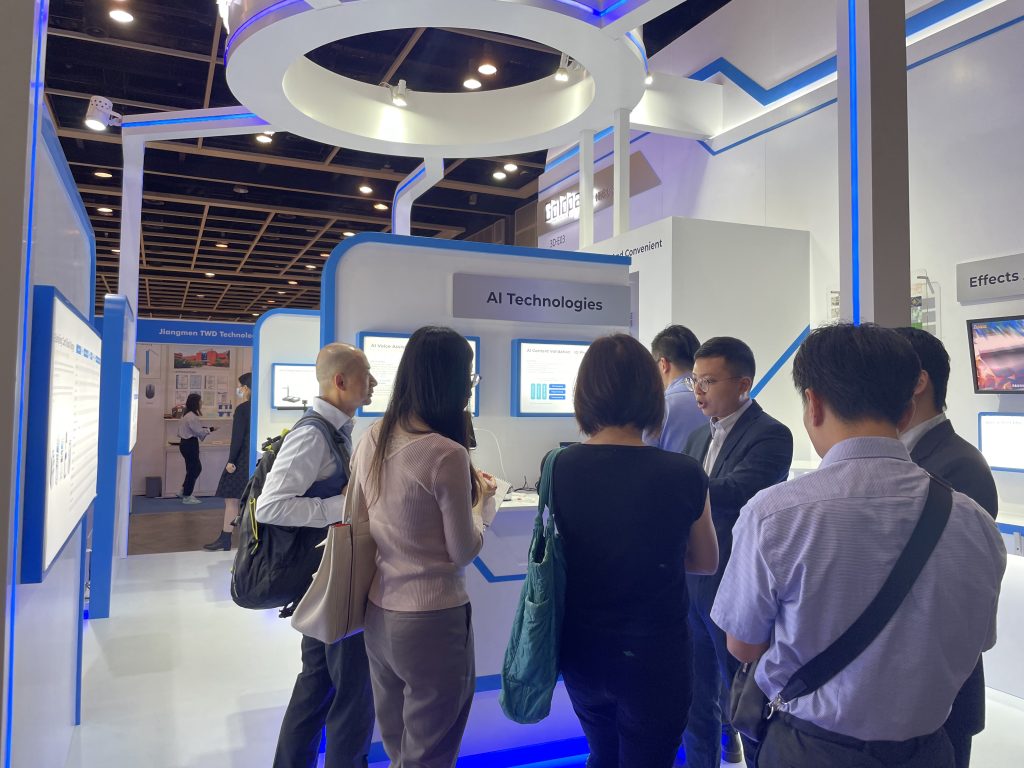 Finally, a selection of beautifully crafted card printing and finishing effects will be on display at the card wall. These designs illustrate just how under-utilised the surface of the payment card is as a prominent issuer branding element. Along with these crafted designs a selection of eco-friendly materials (coffee grinds, recycled PVC, and sawdust), metal, and digital cards (digital currency wallet and e-student card) will also be exhibited.
Goldpac believes that its work today is instrumental to enabling the digital transformation to a future where financial services will become predominantly platform based. A future where Goldpac continues its contribution towards making transactions more secure and convenient for everyone.