Recently, Goldpac Group has obtained the SA8000 social responsibility management system certification. This is not only a full affirmation of the Group's initiative in undertaking and practicing corporate social responsibility over the years, but also a recognition that the Group has met the requirements of the SA8000 social responsibility standard in terms of its humanistic philosophy and standardized management.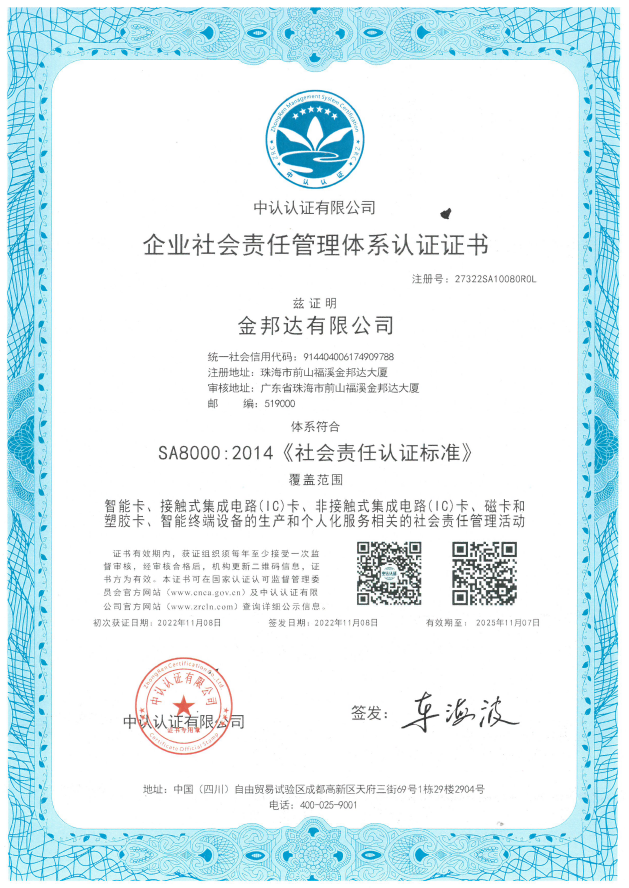 The SA8000 Standard is the leading social certification standard for factories and organizations across the globe that measures social performance in areas such as the protection of the working environment and labor rights. Obtaining the certificate will have a positive impact on the company's ability to build international credibility, as well as establishing positive emotions with customers, gaining partners' confidence in long-term cooperation and achieving humane management.
As one of the first companies in the industry to be certified under the SA8000 system, while pursuing quality, economic benefits and environmental benefits, the Group has continued to improve its standards in safety production, environmental protection, fire prevention, employee welfare and healthcare, and continues to improve the working environment and employee satisfaction, to achieve standardization and normalization in humane management, compliance management and safe production.
The award of the SA8000 certification is clear evidence that the Group actively practices social responsibility and that employees are an important asset of the Group. It is also an important marker for the Group to establish international credibility and gain long-term trust from its partners. In the future, the Group will follow the guidance of the SA8000 to further promote the construction of the company's social responsibility system at a deeper level, from cultural values, ideology as well as labor systems, so as to create sustainable momentum for the long-term development of the company and the enhancement of the Group's international competitiveness.